Builder Profile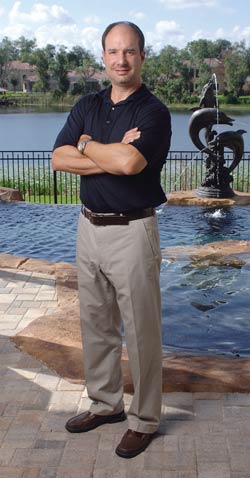 Contrary to one of the housing industry's biggest myths, you don't have to compromise style and sizzle for comfort and practicality. They can co-exist under one roof.
Just ask custom builder Anthony Lightman of Osprey Custom Homes, who has been creating award-winning designs over the years that exemplify the best of both worlds — stunning to look at, enjoyable to live in.
"There has to be a happy medium between form and function," he says.
It is the ability to find that "happy medium" that distinguishes Osprey Custom Homes — a company whose roots go back more than half a century — from its custom builder counterparts.
"We add a lot of value," he says. "After all, when a buyer works with us, they are benefiting from our experience, opinions and expertise, as well as our deep appreciation for a quality-built home. An Osprey Custom Home is not only a great return on one's investment, it also is a beautiful home in which to live."
Yes, a completed Osprey home is truly a thing of beauty. And much of the credit for that is due to the outstanding team of quality craftsmen Lightman has assembled. Each of whom approaches their respective tasks like a work of art — from every nail that is hammered to every tile that is laid. "We employ only project managers who are true masters of their craft. Our superintendents literally live with each home, from the groundbreaking through closing so they can provide the daily management necessary to ensure construction integrity and adherence to schedule," says Lightman.
As diligent as the company is with its construction, it's even more so with its customers. The company works closely with clients during every step of the process to create that perfect home environment. "The end result exemplifies the lifestyle they want to live — not just a beautifully designed and constructed residence, but a home tailor-made for each family's enjoyment."
Because individual tastes are so subjective, Osprey Custom Homes has assembled a diverse range of distinctive home elevations and floor plans, ranging from Country French villas and Bermuda courtyard homes to large Mediterranean estate homes. All of the homes can easily be modified to accommodate a family's personal lifestyle needs.
And Osprey has aligned itself with some of the best interior designers, who serve as consultants during the selection process. Select interior finishes add special touches to the home — including a myriad of choices in floor materials, granites, plumbing hardware, cabinetry, appliances and paint colors.
One is immediately impressed the moment he or she enters an Osprey Custom Home — whether it's from the innovative open floor plan where rooms flow naturally from one to the next or from the dramatic ceiling treatments,creative lighting and artistic design touches that have been the company's signature hallmarks for so many years.
"We want to give our clients the ultimate buying experience," Lightman says. "We work hard to exceed our clients' expectations."
And that's a fact — not a myth.